San Diego's BJJ scene is second to… perhaps one: Rio De Janeiro. The talent per square mile is incredible, and we made the most of our recent vacation there, with stops to a couple of notable jiu jitsu schools.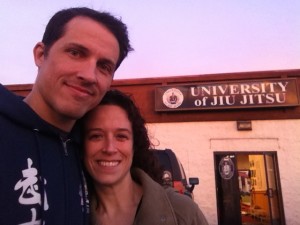 We had Monday thru Thursday, and on Monday we stopped first at the University of Jiu Jitsu, operated by Saulo and Xande Ribeiro.
We took a fantastic class of Xande's, during which there was a warm-up, some stand-up (Judo on this night), and then some ground work (butterfly to X-guard, and sweeps from there).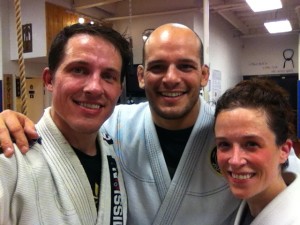 Xande was a genuinely good guy. We saw him finishing up with the kids, prior to our class, and he was very kind and supportive with them. He had the laid-back jiu jitsu vibe, but no less serious and professional for it. In training at other gyms, I've found that some OG Brazilians have an intimidating vibe, and some don't need it. Xande had all the respect of everyone present, and didn't have any pretense to him at all.
Saulo arrived prior to class, and introduced himself with a big smile. He would be in his office for part of class, but would be sticking around, I was happy to hear. As promised, he popped out for the sparring portion of class, and I even got to roll with him.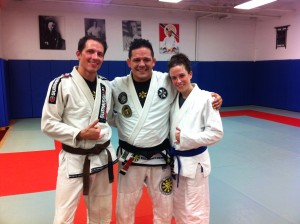 His jiu jitsu was firm, but not aggressive. He let me play a bit, but made no mistakes for my sake. He finished me with the same choke from side mount three times: he held my shoulder with one hand, and choked me with that forearm. In my experience with the "paper-cutter," usually the guy on top either sinks too much into the elbow leaving space on the far side for the bottom guy to back into, turning to face him, or he doesn't sink the elbow, and therefore can't finish the choke with the one arm alone. Somehow, he finished it with no involvement with the other hand. Perfect weight distribution, I guess? This mystery has stayed with me; I wish I asked.
Otherwise, sparring at UBJJ was a great experience. I rolled with a black belt with whom I'd been partnered earlier, and he was good, but again, not overly spazzy. A couple of purples and a blue belt also had good energy, and strong positioning knowledge that made for a fun challenge.
By the end of the night, I felt we'd been welcomed, and felt out, but not roughed up for our outsider status. UBJJ is a good business, and all were great ambassadors that made us want to return.
Tuesday, we headed to Victory MMA, where I was scheduled to have a private lesson with Jeff Glover (a gift from my friend Rob, whose wedding we'd come out for). I was very excited, but after losing Rob's car keys in the ocean while taking a picture of our feet in the surf, I had to reschedule for Thursday. Today we rented a car in time to get back over to Victory for Dean Lister's class.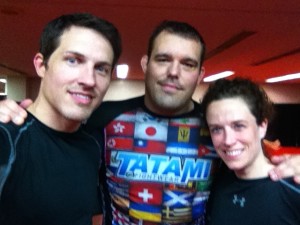 Dean ran class much like our friend Jay back home. He was extremely humble, introducing himself very plainly ("Hey, I'm Dean") when we came in. The no-gi class had a casualness to it, marked by his sense of humor, and plain speaking. Dean was very attentive, and spent a good amount of time with us (if not everyone) stepping in to our pair to demonstrate, and answering questions that came up. The subject matter was shutting down the frame people on the bottom of sidemount throw up (which he called the "Crowbar"), and a couple of finishes while doing so. In sparring afterwards I found myself in a couple of Twisters, which caught me off guard, as nobody I train with really goes for them. Also surprisingly, guys that were a real challenge to spar with had unexpectedly lower belts on in the gi class afterwards (which we didn't stay for). A couple mentioned a number of years no-gi, but only recent forays into gi, explaining the lower belt ranks.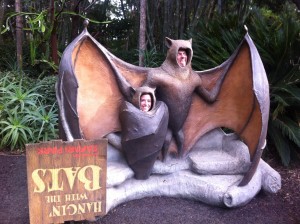 Wednesday, we might have attended class at Royler Gracie's academy, but he was out of town, as was Zak Maxwell. We also called to check on possibly dropping in at Andre Galvao's school, but he had also left for the holiday already. We hit the Safari Park instead 🙂
Thursday was the reschedule day of my private lesson with Jeff Glover. I was excited, since he and I are similar builds, and his game is similar to what mine has been for the majority of my history – a quick open, playful game, full of sneaky traps.
I got just what I hoped for and more.
We began with my requests: guillotines and back-takes. He seemed to feel out just what I was looking for well, and give me some good pointers. Then, about 20 minutes in, we moved on to some rolling.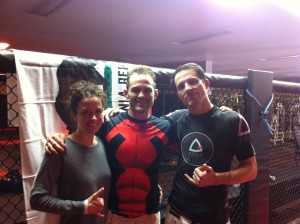 I always instantly respect any teacher who, after showing you a move, will allow the circumstance to arise in rolling for you to practice, and even catch it. Jeff did this more than I even realized, looking back on the video (he was generous enough to allow the whole thing to be video taped).
What surprised me most was how my interest changed over the course of the private, to that of learning more about what some of the traps he was repeatedly catching me in. He caught me in four d'arce chokes at moments I saw nothing coming. As he explained, and I soaked it all in. There really is something to training with a high level person that allows part of you to relax and just accept new information, and that is greatly enhanced when they are your body shape. There is simply no excuse left in your mind as to why you might not be able to do what they can.
He also caught an unorthodox choke from my back, and taught it to me afterwards (catching it twice more after having taught it to me). This was exactly the kind of butt-kicking that I could take all day without frustration. Genuinely being bested with traps set from a place of smart strategy, and perfectly timed execution. I got more energy the longer we went. The hour felt much longer than 60 minutes, and my game was changed profoundly by the experience.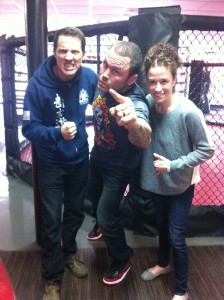 We did make one more of Dean's classes that afternoon, before our flight home. On the way in, we snapped a shot with Chris Leben, who we'd seen training some people in the cage earlier, but was just hanging out on our way through the lobby this time.
In the second class, there was mostly sparring, with a Q&A thrown in the middle, during which he showed a heel-hook set up (an honor to learn from Dean), and some hand grip details for general use.
Our trip to San Diego was an amazing exposure to some jiu jitsu greats, and eye-opening, in terms of the proximity between these legendary schools. I look forward to returning, for a "BJJ Crawl," hopefully with some local friends, in the not-too-distant future!